If you're looking for a career, look no further.
Join the Peterson Spring Team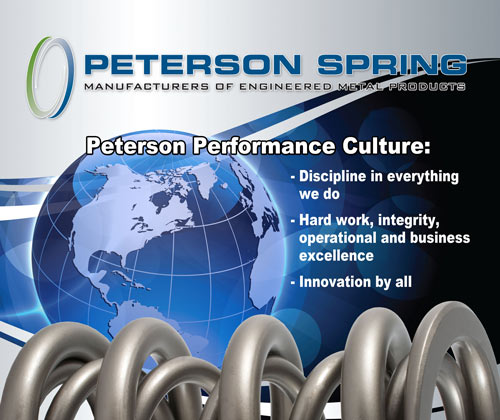 I started with Peterson Spring in 1986. I have had the pleasure of watching a small company grow into a great corporation to work for. Agriculture, automotive, industrial and racing industries. The excitement of new products, customers old and new to work with make every day challenging and interesting. Working as a team to get the job done. I would highly recommend working at Peterson Spring.

Connie Holzhauer
Purchasing/Customer Service
At present I am a part time purchasing advisor and work with the Vice President of Purchasing with our company. I officially retired from Peterson Spring in 2011 following 22 years of service. I always considered it a privilege to work for our company as they are a leader in the marketplace. I surely cannot go back over a 100 years but during my time they have been respected and a company with innovation and a strong degree of ethics. Our current leadership is continuing to strive for excellence and maintain the heritage of the Peterson Family. I have always been proud to be a member of their team.
Gary Connor
Purchasing Advisor
Retired Dec 2011

Innovative Technology
World Class Benefits
First Class Wellness Program
Team Environment
Personal and Professional Development
Growth Opportunities
Flexible Work Schedule
Safe Working Environments
We Hire Veterans!
We have career opportunities for veterans, service members and their families.
We Hire Interns too!
Our interns gain hands-on experience from leaders in the industry. If you are interested in an engaging internship fill out our Careers form and submit today!
Working for Peterson has provided me with a summer full of invaluable connections, technical skills, and communicative tools that I will carry with me as I hope to further my career.  I was the primary intern designated to Peterson Spring's Madison Heights division, where I was inducted in as a member of the production team almost immediately. Each and every day since, working as an Intern for Peterson Spring has taught me more about the manufacturing industry than I ever could have imagined. Most importantly however, I'd like to thank all of the dedicated Peterson Spring employees for allowing me to have such an exceptional experience. Thanks to Jeff, Tony, Khal, and all the rest of my awesome Madison Heights co-workers who have provided me with an abundance of unforgettable information.  As I am sad to go, I am confident that I will carry what I've learned working for Peterson indefinitely.

Enjoy these remaining summer days.

Thank you,
Mitch Robinet

Working for Peterson Spring is easily one of the most rewarding challenges I've ever taken on. With the company commemorating 100 years of excellence, Peterson Spring celebrated and utilized its success as means of inspiration for innovation. As the Sales & Marketing intern, I learned a plethora of new skills and tact each and every day, ranging from insight into sales techniques to mass media marketing. Constant contact with executives and customers taught me a heightened level of professionalism and ethics due entirely to the company's exceptional performance culture. Also, the employees at Peterson were not only vastly well-informed in their respective fields, but were also incredibly amiable. During my time with the company, colleagues treated me not only as an intern, but as a valued member of their team. Regardless of the nature of work I was undertaking, I found myself constantly searching for new methods to further better my own work and the company. In just three short months with Peterson Spring, I watched myself transform into both an enhanced employee and individual. Therefore, it should come as no surprise I would highly suggest becoming a part of the Peterson Spring team, no matter your specialty.

Leigh Maple
HO Sales & Marketing
Oakland University, Junior
Bachelor of Arts in Communication