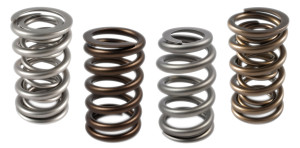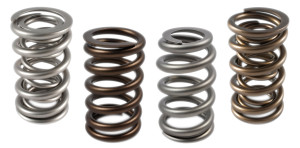 Considered the world's premier valve spring manufacturer Peterson Spring has been an innovator within the industry for almost a century. As a major supplier to OEM, Tier 1, and aftermarket camshaft manufacturers, we design and build state-of-the art valve springs for all forms of applications as well as springs in fuel injectors, latch mechanisms for valvetrain components, springs in torque converters, and clutch assemblies.
By applying advanced manufacturing techniques such as gas nitriding, surface enhancement and precisely controlled heat-treatment stages, Peterson's springs minimize load loss while in service.  An optimum combination of mechanical properties, stress profiles and surface conditions are used to generate the maximum possible life and speed capability. PACALOY® Valve Springs have become the standard in professional racing with their high strength, super clean alloy, and highest quality.
Technological and Engineering Capabilities
Two advanced laboratories are dedicated to ensuring the quality performance of our engine-powertrain springs. In the metallurgical laboratory, our scientific and technical staff can process samples for raw material qualification and validation. We use a full range of analytical resources to examine fundamental material properties:
Evaluation of rotating-bending fatigue of wire stock
Measuring tensile yield of competing materials
Optical metallography: including scanning electron microscopy and energy-disperse x-ray analysis, to evaluate surface condition and structure, to determine grain size, and to identify the presence and content of inclusions in raw materials
X-ray diffraction to measure stresses in both wire stock and finished parts confirm the quality of materials or the effectiveness of production processes
Microhardness testing to verify hardness profile, residual stress profile, and surface processing effects
Surface roughness and decarburization analysis
Impact testing to measure fracture toughness and notch sensitivity, and to evaluate processing effects.
In the dynamics laboratory our engineers employ a full range of testing resources to examine production or prototype springs in conditions that closely approximate actual use:
Cycle testing of finished springs to determine and enhance fatigue life
Video analysis of the complete spring event identifies crucial dynamic forces
Laser measurement of valve position to determine precise location throughout the working cycle
Proximity probe focuses on the valve-closing event to determine position, timing, and the occurrence of valve bounce
Rotary cycle and servo-hydraulic fatigue testing
Specialized equipment for evaluating spring rate, spring frequency, spring load, and spring pitch profile
Strain gauging capabilities for springs and valvetrain components
SpinTron® motorized valvetrain tester and KDY data analyzer
Our engineers are fully experienced in product design, spring design analysis, dynamic simulation, and the application of advanced technology to produce innovation. We use a variety of software for spring design, modeling and assembly, and FEA to optimize performance. We use 2D dynamic motion software, 3D dynamic simulation modeling software (ADAMS), solid modeling (NX), 2D drawing software (NX, ProE, ACAD), and spring design tools (IST, SMI, PAC). The latest improvements are on: advanced high tensile materials, nitriding and piece hardening, ovate and multi-arc wire sections, Beehive spring configuration, and advanced surface-finishing processes.
Whether you need valve springs for a motorcycle with an 18,000 RPM engine or a low-horsepower engine, Peterson Spring has the technology and the know-how to match you with the proper valve spring to meet your needs.
PAC Racing Springs' value- engineered products provide unsurpassed performance for NASCAR, F1, Drag, Rally, Sprint Racing, and everyday street performance in all forms of motorsports. Peterson Spring manufactures a range of high stress, low ppm, zero defect, asymmetrical, ultra clean circle track, RPM series, drag race, beehive, LS engine, street performance, and motorcycle or ATV valve springs. Please contact www.racingsprings.com for more information.
Please contact us to receive an estimate on large volume/OEM orders.