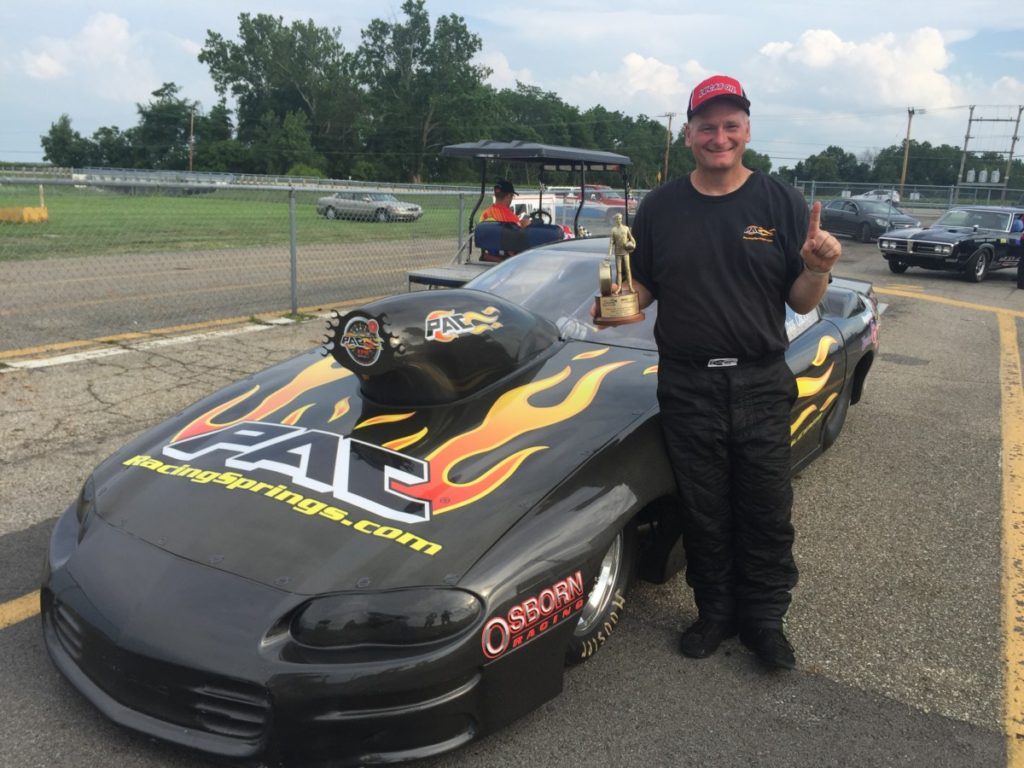 Columbus, OH (July 24, 2016) –  PAC Racing Spring's Chris Osborn took his six second, 200mph Top Sportsman PAC Racing Sponsored Drag Race Camaro to the winner's circle in the NHRA Central Division Race.   Chris Qualified 11th in a tough field of competitors and drove the car through five rounds of eliminations to win his first ever major event victory.  CONGRATULATIONS CHRIS!
Chris stated, "This win is extremely exciting, gratifying and surreal!!!  After going to so many races and investing so much time and effort to get this car together, I thought we could win but not as quick as today.  I don't think anything will remove this smile from my face for quite some time!   I want to thank PAC Racing Springs for supporting my racing endeavors and my crew (Angie Soroka,  Bonnie & Gairel Osborn) for working so hard on such a hot day.  This win would not have happened without them!"
The weekend was very brutal with 90+ degree weather, very high humidity and a greasy, slick track but Chris was able to adjust and make the right calls to come out on top each round.  The third round was very tough as Chris launched late on the Christmas tree but the car powered through to win by only 0.001 seconds or about three inches.  "Most race winners say you need a lucky round and that was it for me." Chris stated.
The win vaulted Chris to a top 10 points position in the tough NHRA North Central Division with only two more division races this year.  "If we can make the remaining races and have everything come together like it did this weekend, we can make it to the top of that list!"
Chris is the General Manager/ Engineer for PAC Racing, and proudly uses the racing products made in PAC Racing's Southfield, Michigan facility on his race car.  In addition to the thrill and the sport of racing, Chris uses his car to develop products and understand what the racer's needs are in real world winning situations.